Catering Service
---
Enhancing the well-being of university students and teachers
Longyuan's "Campus Life Service Plaza" service model is based on the characteristics of the service institutions and the restaurant, selecting the matching module combination, modular decomposition of "meal + drink + activities + social + entertainment + experience + learning + leisure + culture" and other functions, effectively split and combined The restaurant will be a third living space for students in addition to the classrooms and dormitories.
The campus life service plaza is a modular combination of seven major functions, including "dining, drinking, marketplace, activities, leisure, social and amenities", based on the characteristics of the institutions and restaurants served, and is effectively split and combined.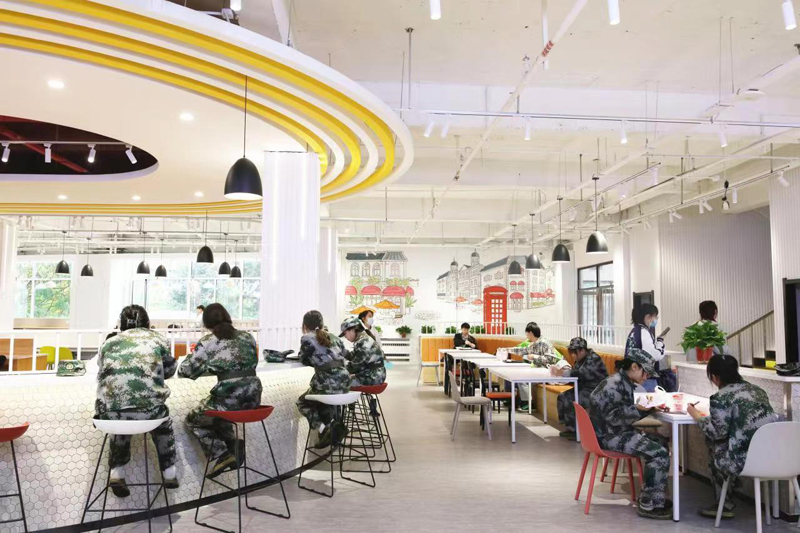 The dining hall is not just a place for students and teachers to eat, it should be an immersive scene that integrates "meal + drink + activity + social + entertainment + experience + learning + leisure + culture" and is the third living space for students apart from classrooms and bedrooms.
Renew the warmth of home and enjoy quality living
Explore more possibilities for your restaurant by relying on quality and professionalism
Cuisine: fixed set menu + a la carte weighing + single stir-fry, basic group meal + northeastern specialties + local flavours, three meals + afternoon tea + evening snack
Innovation: Establishing noodle standards and more creative dishes, achieving 20% innovation in dishes every week; following trends more closely and experimenting with netflix dishes and also herbal meals to improve students' physique
Temperature: firstly, the dishes are kept at 75°; secondly, the environment is kept at 19-25°; thirdly, the temperature of love is maintained, with more humanistic care for students and staff
Public service: free soup at every meal and daily specials to reduce students' stress; open work-study positions so students can subsidise their studies nearby
A more tailored service A more efficient and convenient experience
Specialty.
Longyuan Catering has fully introduced five major systems.
☞ GB/T19001-2016/ISO9001:2015 quality management system certification.
☞ GB/T24001-2016/ISO14001:2015 environmental management system certification.
☞ GB/T45001-2020/ISO45001:2018 Occupational Health and Safety Management System Certification.
☞ Hazard Analysis and Critical Control Point (HACCP) system certification.
☞ GB/T27306-2008/ISO22000:2018 Food Safety Management System
Led the drafting of the Standard Specification for Socialised Student Canteen Services in Higher Education Institutions in Liaoning Province, becoming a standard-setter, practitioner and leader in the industry service specification.
Safety:
Dragon Sourcing Catering Food Safety Management is made up of a team of experienced food safety experts and food safety management professionals. With their expertise in university catering management, they carry out theoretical food safety training, work guidance, on-site inspections, regular assessments and risk and crisis assessments for Longyuan Catering Management in accordance with the law. And through professional food safety fast-testing techniques, they are always ready to conduct random checks for hidden food safety hazards in the canteen, providing a guarantee for Longyuan Catering to ensure the food safety and nutritional health of students and teachers.
A more tailored service A more efficient and convenient experience
Dragon Sourcing's unique intelligent restaurant solution frees up contemporary universities to focus on teaching and learning, and gives students a more convenient and secure dining experience.
Smart Dining:
"1+3" dining experience: dine-in (1) + takeaway + pre-order + take-out (3)
Smart cashier:
Face Payment + Smart Plate
Smart Kitchen:
Internet + bright kitchen and bright stove, mechanization
Campus Restaurant Complex, more than one side of the restaurant
Dragon Sourcing offers a wide range of restaurant solutions, allowing multiple uses for one view, one place and one use to maximise the value of every inch of space.
Experience:
Shared Kitchen. Students will be able to choose their own ingredients, cook their favourite dishes and experience the joy of cooking.
Activities :
Activities such as the King of Cooks competition, food tasting sessions and tongue-in-cheek food on campus are conducted to enrich students' after-school life.
Leisure:
Order a coffee, pick up a book, sit in a restaurant with WiFi and a charging port, and spend a quiet and relaxing time.
Entertainment:
The LED activity area can be used to sing, dance, perform and carry out a variety of club activities, with Longyuan Catering providing the stage for students to show their youthfulness.