Ma Guihua, the first national college logistics "moving figure"
  Comrade Ma Guihua, currently the director of the project apartment building of Liaoning University of science and technology of Longyuan Anshan Company, joined the company in April 2009. He loves his own work, has a selfless professional spirit and sense of responsibility, has strong organizational ability and appeal, has a clear sense of justice and personal charm, and plays an exemplary role. Over the years, she has adhered to and practiced the professional concept of "serving and educating people". In this ordinary post, she has made every student enjoy the care of her mother, the inspiration of her life model and the guidance of her teachers with her words and deeds. Ren'ai building, which she is in charge of, is the largest apartment block in the school, with more than 2000 students. The children affectionately called ma Guihua "apartment mother", and the school leaders and teachers called her "apartment elder sister". She was employed as an "honorary counselor" by Liaoning University of science and technology. The building she was responsible for was also awarded the "advanced building" for many years. Guangming Daily, Qianshan evening news, Liaoshen Evening News and many other media have reported her deeds. She has been rated as the best Longyuan person by Longyuan Group for many years in a row, and the chairman awarded the "special contribution award". On May 22, 2016, she was rated as one of the top ten "moving apartments" by the National College Logistics Association. On November 8, 2016, she gave a report on the advanced deeds of "three educations" of Liaoning University of science and technology organized by the Party committee of Liaoning University of science and technology. As an advanced person serving and educating people, she told the story of her and the children in the apartment with simple language, detailed examples and sincere feelings.

Warmth -- mother's care
Ma Guihua is a real "apartment mother". Every student in Renai building can feel the warmth, care and care from her.
In order to better communicate with her classmates, she learned how to use computers and established the Renai building QQ group called "e family". She became a QQ group leader, with the net name "not enough love". Since there was no computer at work, she would chat with her classmates online at home after work. The family laughed at her for "squinting at the screen and picking up her fingers to learn to type", but she turned a deaf ear and did not weaken her enthusiasm to communicate with the children.
She will check the students' thoughts, emotional fluctuations, physical conditions and other information on the Internet every day, and give comfort, explanation and care according to the situation. On one occasion, Wang Yan, a student in E235's dormitory, left a message on the Internet saying, "my leg is hurt and I can't walk. I'm very depressed!" After knowing the situation, Ma Guihua went to see her with a can, and carefully asked whether the injury was serious and whether it was necessary to go to the hospital for treatment; Seeing a classmate, he wrote on the Internet: "I miss home and want to eat the dumplings made by my mother". The next day, Ma Guihua brought the steaming dumplings to the classmate; Once, a classmate used illegal electrical appliances. After Ma Guihua found out, he criticized and educated her, explaining the harm of using illegal electrical appliances. Once an accident occurs, it will not only hurt himself, but also endanger the safety of others. The classmate then left a message on the Internet: "Auntie, I really know I was wrong.". Whenever a festival comes or a child's birthday is seen on QQ, Ma Guihua will send a greeting card and send blessings. When the students received warm blessings, they would reply: "aunt Ma, with you, we feel the warmth of love and home."
As the number of children applying to "family e" gradually increased, the original QQ group of 500 people was not enough, and she established a group of 1000 people. Some members of the group have graduated and moved in all directions, but they still pay attention to the people and things in the "e family", communicate with each other in the group, and teach some learning methods and work experience to the younger students. But without exception, they often leave messages to Aunt Ma, telling her to pay attention to her health. Some students tell Aunt Ma about their plans to get married and invite her to attend the wedding. With the passage of time, the love has not been lost, and the "e family" has become more and more large and closely united.
Willing to love the dedication, harvest the return of love. In this way, Ma Guihua and her children, a group of forgetful friends, have become a family enjoying Longyuan love and carrying Longyuan love in the group of "e family".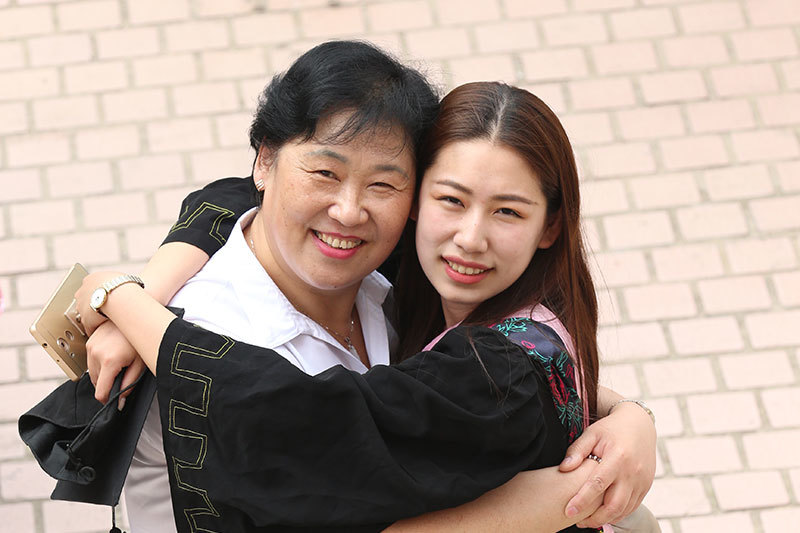 Inspiration -- the power of example
Ma Guihua is an ordinary person, but she is an ordinary person with noble personality and full of positive energy. With her own behavior, she set up a personality model for students to see and learn.
Ma Guihua saw a student write on the Internet: "what am I in my mother's mind..." she thought that there must be a misunderstanding between the child and his family. She came to her classmate's bedroom and had a heart to heart talk with the girl as a mother, which showed that sometimes there was only a lack of communication between mother and son, or the mother did not properly show her love for her children, but every mother loved her children most. The girl threw herself into Ma Guihua's arms and said, "aunt, you are really my good mother!" This matter has been passed from one to another, and the students have decided to celebrate a meaningful mother's day for their mothers on May 10. They asked the older ma mother, "what do you like? What kind of mother's Day gift do you want your children to send?", Ma Guihua recommended several "gifts" to them, such as "self-made dishes", "love Confessions" and "mother daughter group photos", hoping that the children and their families can enhance their feelings and bathe in the warmth of love. On May 8, Ma Guihua went to work normally. To her surprise, thousands of students gathered together to send her blessings, flowers and "gifts" recommended by her. This strong and brave aunt Ma, who is usually not afraid of difficulties, left moving tears. The students said that Aunt Ma was very caring for herself at ordinary times, and felt that there was another "mother's care" in the campus. She celebrated a special mother's day for her in advance... This event touched many students. Soon after, Qianshan Evening News published a report on this touching event.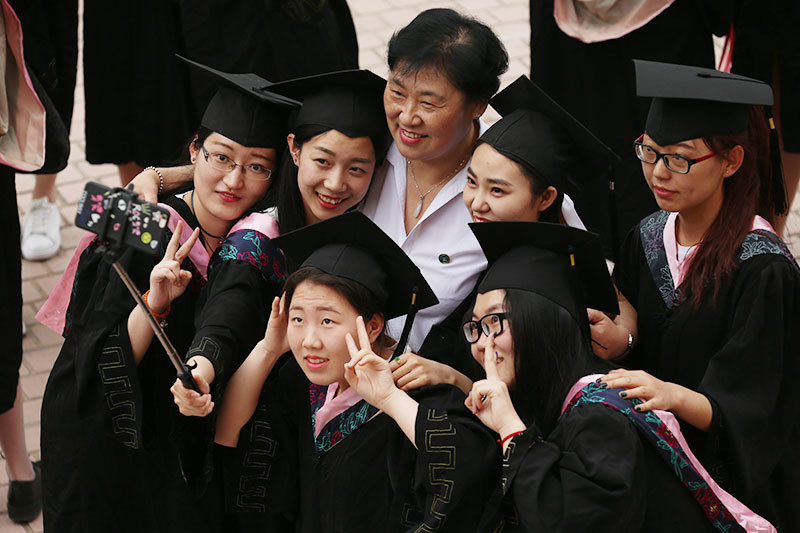 Leading - the responsibility of Teachers
"Cultivating people with virtue and educating people with service" is the service concept that Ma Guihua has been practicing in the management of apartments. She extended her responsibilities to all life fields of students outside the classroom, led them to establish a correct outlook on life and values, and helped them grow healthily.
A girl in Renai building had a conflict with her boyfriend because of emotional problems. The boy still held a sharp instrument in his hand. Upon hearing the news, Ma Guihua immediately informed the school leaders. When she arrived at the scene, regardless of her own safety, she hugged the boy from behind and asked other students to protect the girl from entering the dormitory. In the face of the boy's excitement, Ma Guihua said: "no matter whose mistake caused today's contradiction, how can you bear to do this when you think about her being nice to you? You are a handsome and sunny boy. Don't be punished by the school because of impulsivity, which will affect your future life!" The boy's mood gradually calmed down, put down the dangerous equipment in his hand, and slowly left the Ren'ai building. Later, Ma Guihua went to the girl's bedroom to visit her and enlighten her not to hate the boy's behavior today. His attitude showed that he had realized his mistake. However, as a girl, he should always remember to protect himself. When his body is in danger, he should not be impulsive... Ma Guihua did not go home after work, and always stayed with the girl until her mood stabilized. Ma Guihua also met the boy later. To her surprise, the boy nodded and smiled at her.
On Mother's day, a student who had graduated for more than a year specially rushed back from his home in Fuxin to send a flower basket to Ma Guihua and her family. Ma Guihua was moved by the children's true feelings. The child said: "aunt Ma, I still remember that when I was a sophomore, my personal feelings were not handled well, resulting in the intensification of conflicts, and my life was threatened. It was aunt Ma who helped me to hold up a safe sky. I never forget my gratitude for being insulted and for being blocked regardless of my life. No matter where I go, you will always be my daughter's concern." and he also said very seriously: "Aunt Ma, when I get married, I will walk out of our apartment in my wedding dress. I will never forget my mother Longyuan who has been in College for four years."
Illuminate the campus with fraternity and convey warmth with true feelings. "Apartment mother" Ma Guihua is willing to love and dedicate, knows the way of love, enjoys the fruits of love and reaps the rewards of love. With her simplicity and kindness, she told the people in the apartment that giving love and giving love would make people feel extremely happy and happy.