Tang Xiaoling, "the most beautiful apartment person" in college logistics
College logistics "most beautiful apartment person": Tang Xiaoling, project director of Shenyang Institute of physical education of Longyuan shenti company
There is a clear spring in the heart, and the garden is full of love
  Tang Xiaoling joined the service department of Longyuan apartment of Shenyang Institute of physical education on August 18, 2009 and served as the administrator of building 4. In March 2012, the company appointed her as the director of buildings 4, 5 and 6 due to her professional skills and excellent performance. Over the past nine years, she has served nearly 20000 students, always upholding and practicing the professional concept of "service and education". In her building, more than 1200 students have been admitted to graduate school and more than 1000 have successfully joined the party. She defined "mother's care" as treating students with a "mother's heart". On weekdays, we are not only concerned about their food, clothing, shelter and transportation, but also about their emotional, psychological and personality development. Every look and every action make students feel endless warmth and meticulous care. In this ordinary post, she touched every student around her with her simple and pure service, and many children affectionately called her "sugar mother". The building she served, herself and her team have been commended by Liaoning Provincial Department of education, Shenyang Institute of physical education and Liaoning Longyuan Group for many times. The building she served has twice won the title of "civilized college student apartment in Liaoning Province" and has been rated as "model building" by the Logistics Department of the University for five consecutive years; She herself has been rated as "the best Longyuan person" and "excellent apartment building director" by her unit for many times; Liaoning TV station, Shenyang TV station, Liaoshen Evening News, Huashang morning news, Fushun evening news and other media have reported her moving deeds. She is the "Guardian" of students and the "spokesperson" of positive energy.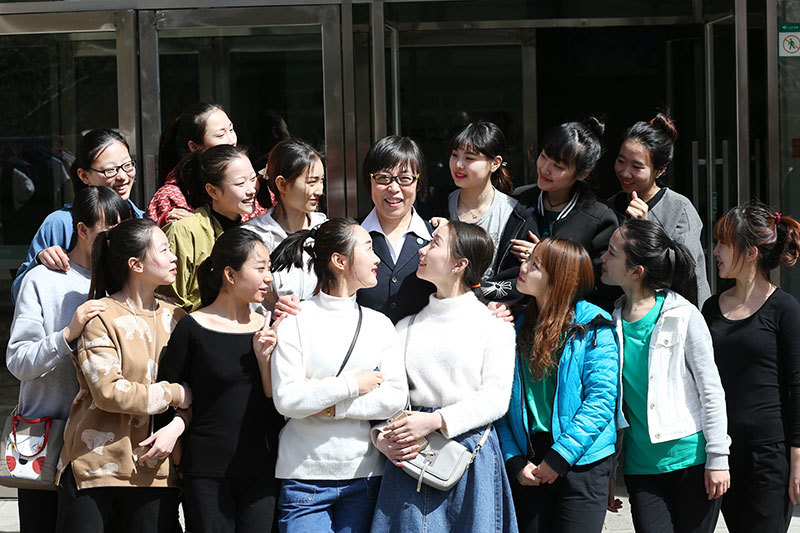 Warm group photo of Tang Xiaoling and children

Twilight years -- still send deep feelings to students
Tang Xiaoling, who is over 50 years old, pays close attention to every student. From the careful study of professional skills such as portrait recognition and psychological counseling, to the familiarity of each student's name and personality in the building, to the words and deeds of the children in the capacity of "mother", her love begins from the heart and is put into practice.
I remember that in November 2016, two female students of the school of management of building 6 were accidentally knocked down by a car that turned and skidded, and their legs were injured and cast. Tang Xiaoling's heart is affected by the children's injury. In order to make them recover as soon as possible, she transferred the two students from the third floor to the "love house" on the first floor to take care of themselves. Every day, she kept changing dishes to supplement the children's nutrition. Sometimes she even lived in the apartment to take care of them. The two students recovered quickly and looked much better than before. With tears in their eyes, they looked at Tang Xiaoling and said, "aunt Tang, thank you for your care and care. In the future, you will be our 'sugar mother'!"
In the building under the jurisdiction of Tang Xiaoling, there are several children with financial difficulties. Tang Xiaoling always pays more attention to them. Over time, these children become closer to her. In the winter holiday of 2012, the children went to Shenyang baiqingzhai ski resort to work and study at the introduction of Tang Xiaoling in order to earn enough tuition and living expenses for the next year.
The Spring Festival is coming. The red lanterns decorate the earth. Seeing groups of tourists, the children miss their families. Thinking, they dialed Tang Xiaoling. A big boy on the phone sobbed and said: "aunt Tang, happy new year, I miss you..." Tang Xiaoling put down the phone, wiped the tears from her cheeks, said sorry to the family, and carried a few bags of food, braved the wind and snow on the road to baiqingzhai... After reversing three cars and walking nearly five kilometers, Tang Xiaoling finally arrived at baiqingzhai ski resort four hours later. She tidied up her appearance after the wind and snow, smoothed her breathing, rubbed her frozen legs, and walked to the children's workplace with a smile. When she saw her, 20 or 30 children rushed to her. There were some children she knew well, and some children she did not know well and missed their relatives. Everyone hugged her, hugged her, enjoyed her mother's love, and shared the food she brought. When the children reluctantly sent her to the bus on the return journey, through the window, Tang Xiaoling felt that the children seemed to have grown up a lot. They had been able to bear the heavy burden of life alone. Tang Xiaoling felt heartache and even more gratified.
Write the rhythm of love with true feelings, and describe the beauty of painting with sweat. In her twilight years, Tang Xiaoling sent deep feelings to the students of Shenyang Institute of physical education and dedicated the rest of her life.

Tang Xiaoling sews clothes for the children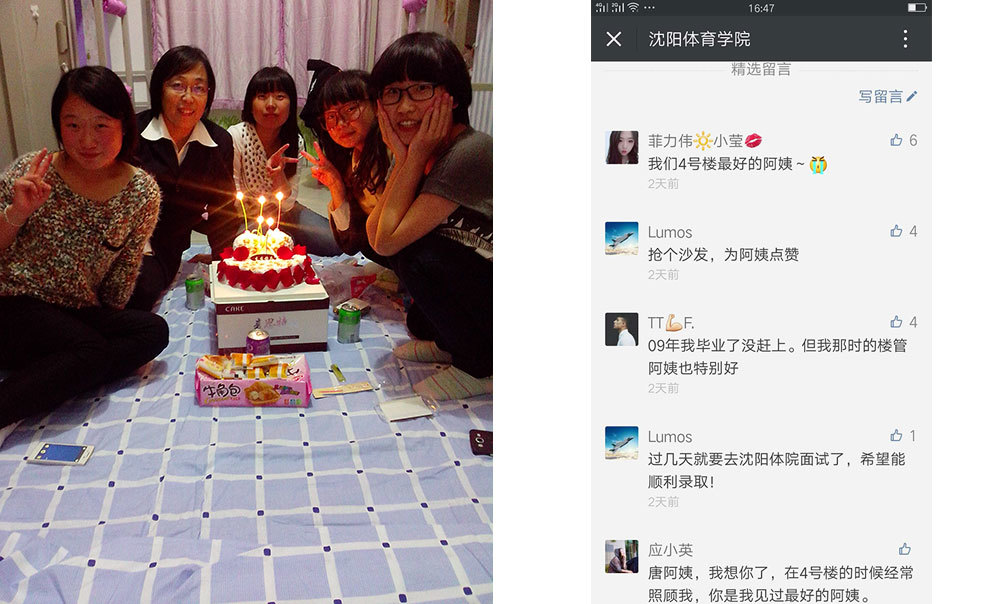 Tang Xiaoling celebrated the children's birthday and the students' comments on Tang Xiaoling

There is a clear spring in the heart - the source of fresh water is more protective of flowers
Tang Xiaoling often said: "I may be very ordinary and small, but I can timely relieve and comfort the children when they are frustrated and need to talk. When they are praised and need to be encouraged, I can give them a big praise and a full hug." She infected everyone around her with her steadiness and toughness, and taught the children what is Thanksgiving and what is responsibility with her actions. As a result, the children are more and more healthy and cheerful, and more and more positive.
One day in September 2016, a silver car stopped in front of building 4 of the apartment. Tang Xiaoling just wanted to stop the car, when a man and a woman got off the car. As soon as the boy got off the car, he threw himself on Tang Xiaoling and said excitedly, "Auntie, I dreamed of you in my dream. Today I finally came back.". Tang Xiaoling was tightly held by the child, and her brain immediately thought of the child's name - grade 08... Qiushi... Suddenly, her tears came out, shouting: "Gu Qiushi, it's Qiushi!"! The boy shouted to the girl behind him, "look, Auntie still remembers my name!"
Put away the pride and publicity. Qiu Shi said that he and his girlfriend just got the marriage certificate yesterday, and today they specially came from Jilin to see Aunt Tang. He told the girl that his university was neither 211 nor 985, but in the student apartment here, there was an aunt who was more like a "mother" to take care of him, give him care and care, and accompany him through four years of college life. At the same time, he promised the girl that he was a good man and would give her happiness.
Tang Xiaoling looked at his endless complaints and excited eyes, and the past events came to her eyes one by one: Gu Qiushi, a martial arts college in grade 08; Gu Qiushi, who was sorry when he returned late; Gu Qiushi, who turned red after drinking and played with his aunt; Gu Qiushi, who was proud after receiving a scholarship; Gu Qiushi, who helped her aunt with snow removal with a shovel; Gu Qiushi, who hugged and wept when he graduated Gu Qiushi, who turned to wave his hand, looked at their happy back when they left, and thought of meeting or not seeing each other many years later. I wish them a good life.
March is the beginning of school and the day to commemorate Lei Feng. On March 1, 2018, Tang Xiaoling took three students, Wang Xinyuan, Zhao Xiangxin and Liu liuer, in the building where she was located, to visit and study in Leifeng Memorial Hall in Fushun, and to express condolences to the elderly living alone in the nearby community.
Two students from other provinces entered Lei Feng Memorial Hall for the first time, and their enthusiasm for visiting and studying was very high. During the visit, they took photos and recorded everywhere they went. Liu, a local student in Fushun, also acted as a "temporary commentator" to introduce the relevant information of Lei Feng Memorial Hall. Several students sometimes lamented the short life of Lei Feng and the hardship of the environment at that time, and sometimes showed admiration and firm eyes
When I saw these elderly people living alone, they were very upset. They told themselves that they must be kind, care more about the elderly, show filial respect to their elders, and care for their families.
Tang Xiaoling said: "there are many students from other provinces in the apartment. They are not familiar with the history, culture and scenic spots of the northeast. They are not adapted to the local customs and living habits, so I will pay more attention to them." She believes that while teaching by example is better than preaching and setting an example, she should also lead students to experience life, comfort special groups, visit historical memorial halls and other activities, so that students can deeply understand and learn the essence of China's excellent traditional culture, and practice it in action to be beneficial to others, the country and the society.
Q: how clear is the canal? To have a source of fresh water. It is Tang Xiaoling who influences the students with the pure and abundant power of "source and flowing water", so that they can become better young people and enjoy their own fragrance. "Flowing water protects flowers more" - this is her life and her masterpiece.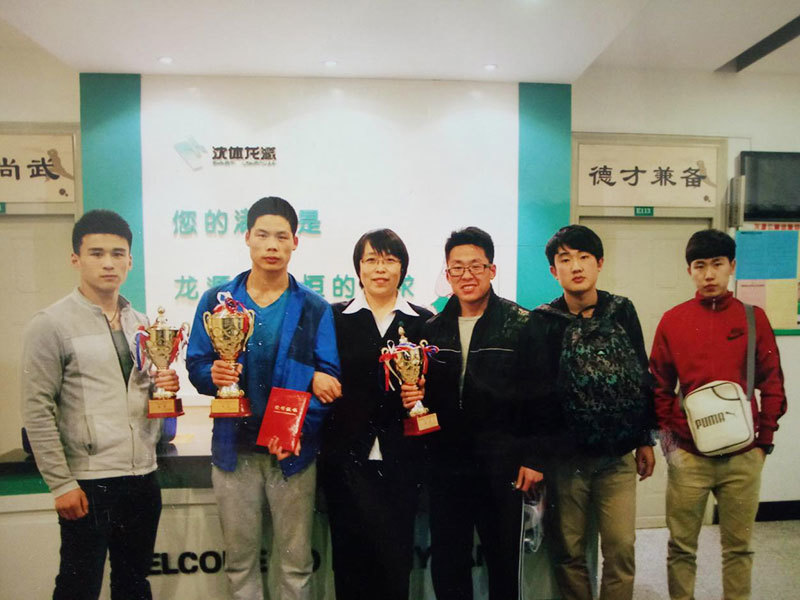 After winning the prize, the students of grade 12 in the martial arts department can't wait to share the joy with their aunt

Tang Xiaoling took her students to Fushun to visit Lei Feng memorial hall, and Tang Xiaoling took her students to comfort the elderly living alone

The spring light is full of love -- the garden is full of glory and love is boundless
Whether students or graduates; No matter for the students themselves or their parents, she sincerely cares and cares for them; Even whether her efforts can be rewarded or not, and whether her work is risky or not, she will stick to the land of painstaking cultivation and wait for students to grow up.
Zhu Kangli, a graduate student who is due to graduate in 2015, had to come to Shenyang Institute of physical education from Jiangsu to take a make-up exam because he failed to obtain a degree certificate in English during the school period. He walked on the path of the Sports Institute, feeling lost and at a loss. I passed by the building where I lived in college. Thinking of the aunt in the building, he excitedly shouted in the corridor: "aunt Tang, aunt Tang..." with the help of the building administrator, Zhu Kangli quickly found Tang Xiaoling. After listening to the children's narration, Tang Xiaoling was worried. She thought that there were several students in the gallery who were good at English. They would share their good results with themselves at the first time. So Tang Xiaoling immediately contacted these "English bullies" to help Zhu Kangli make up lessons
One day, Tang Xiaoling was suddenly stopped on the way. The child blocking the way was Zhu Kangli. He bowed deeply and said: "Auntie, thank you and several alumni at that time. Otherwise, my job would have been lost and my life would have been gloomy. You are really my noble person, lighting a bright light for me in the dark."
When the freshmen checked in in 2017, there was a child from Henan who lived in building 4. His family is particularly difficult. His parents want to spend more time with their children, but they can't bear to stay in a hotel. They don't know what to do. Tang Xiaoling heard about this and immediately contacted the parents of the child with a free residence. The child's parents were moved to hold Tang Xiaoling's hand and said, "you are really a good elder sister! We can't rest assured that we have given the child to you!"
Tang Xiaoling warmed the children with selfless and selfless love during the special period. During the avian flu period in 2010, two students from the school of sports and Human Sciences in building 5 were isolated into the empty dormitory of building 4 due to fever. The two children were worried because of their illness, and they were sent to a strange place. For a time, they felt panic and helpless. When Tang Xiaoling learned about this, she did not consider whether she would be infected. She brought breakfast to her two children from home every day, sent hot water, and comforted them. She also said: "teachers, school leaders, students and apartment aunts all care about you very much. Here is also your protection. Don't worry, and you can resume normal study and life immediately." The two children shed tears while eating the breakfast she brought. Tang Xiaoling saw it in her eyes and felt pain in her heart. She tried her best to reassure them: "you don't have to be afraid if you have aunt Tang. Aunt Tang is also a mother. She has a lot of experience. I take care of her, and I'm not afraid of anything..." after the bird flu, the two children rushed to her, no longer timid, and hugged her tightly.
In February 2018, Tang Xiaoling received a letter and an embroidered red scarf from Yuan Jing, a graduate of the University for many years. The letter reads: "I want a red scarf in the winter of the birth year. Aunt Tang, you knitted a beautiful red scarf for me. After all these years, I still keep that scarf. When the weather is cold, I will still wrap it up. My body will be warmer and my heart will be warmer... In the year of reviewing the postgraduate entrance examination, I was under great pressure to study. You were afraid that I could not eat well. You brought me a large lunch box of braised pork and a box of peeled walnut. Your love makes me confident Bei, finally successfully admitted to graduate school... You should take good care of your own health. Don't work too hard. I really miss you! "

Letter and new year's gift from Yuan Jing, who graduated two years ago, to Tang Xiaoling
Tang Xiaoling was carrying this letter and wearing the red scarf sent by Yuan Jing, brimming with unparalleled satisfaction.
The greatest truth is the simplest, and the simplest person is the greatest. Tang Xiaoling believes that it is great and the happiest to do something for the children with her heart. She is the "Guardian" and "interpreter" of the children in the apartment, the "good voice" and "craftsman" in the university logistics service industry, and the "microphone" and "microphone" of the socialist core values.
Chunhui has true feelings, and great love has no boundaries. Tang Xiaoling, who has trekked many roads, is always around the apartment and campus; She suffered a lot, but what she gave the children was sugar and sweet.

  Love meets here, and happiness spreads here. Grade 14 students and "sugar mother" are like a family. In the early morning sunshine, Tang Xiaoling sent them to school.

  On the occasion of graduation, the students took a group photo with mother Tang as a memento.